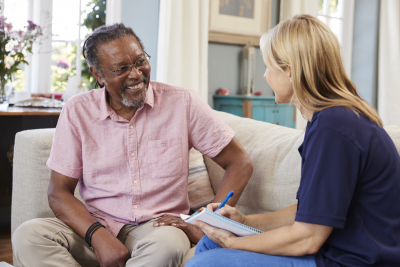 ACE HEALTHCARE is an established home care agency that serves individuals and families throughout Georgia and the surrounding areas. We specialize in developing and delivering comprehensive home care services that allow seniors, people with disabilities, and other individuals to live independently and with dignity in the comfort of their own homes. Since our founding, we have built a solid reputation for delivering compassionate home care services.
Over the years, ACE HEALTHCARE has expanded sensibly, growing our agency only as fast as we can build a team of well-trained, highly qualified caregivers and home care professionals. All of our staff members are carefully screened and hired, ensuring that our clients receive quality care from people they can trust.
Our Mission
Our mission is simple: We are here to help. We endeavor to improve the quality of life of those we serve through the delivery of high-quality, compassionate home care services customized to meet each person's unique circumstances and needs.
We will focus on what ACE stands for which are Adults, Children, Employees. Adults and Children: We will support adults and children to achieve greater independence, choice and opportunity in their everyday lives. Employees: We will enable our Employees provide top notch healthcare to Adults and Children.
Our Vision
Our vision is to be recognized as a leading home care agency in the communities that we serve. To become trusted partners for our client's personal care, companionship, and other home care needs. To develop long-term client relationships founded on trust, integrity, and unparalleled client satisfaction. We will provide the best-in-class person-centered care.
Our Values
We will achieve our mission and vision by instilling our core values throughout our organization. Our core values are C.A.R.E.S which stands for:
Care
Accountability
Respect
Excellence
Service
Learn More
Thank you for choosing us as your partner in health. For more information, give us a call at 404-966-3331.